As you can imagine, photographing cheeky puppies is a photographer's wet dream, and Ajax was no exception! As a ridiculously cute 7-month-old, he was curious about everything, but not great with his recall! As such, we needed to keep him on the lead for a lot of his photoshoot, which is a common necessity. You wouldn't know from the final photos though, as we were able to take out the lead in photoshop. Ajax also didn't let the lead hinder his vivaciousness! He had so much energy and pizazz that his personality was coming through in buckets. His ears were particularly expressive and cracked me up. The featured image of his ears fully back with his eyes closed reflects his personality to a tee. Have you seen a bigger, goofy smile? His humans were totally smitten with him, and I really enjoyed capturing their connection.
On top of beautiful people and a cheeky puppy, we also had a stunning location to set the scene for our photography! It was a lovely sunny morning when we met along the Canning River, blessing us with the gorgeous golden hues you can see in the images. The area was spacious, with very few other dogs or people as distractions, helping playful Ajax keep his focus on us! The only downside was the possibility of snakes in the area, but this is hardly anything new during an Australian summer! A little awareness and precaution make this common challenge easy to navigate.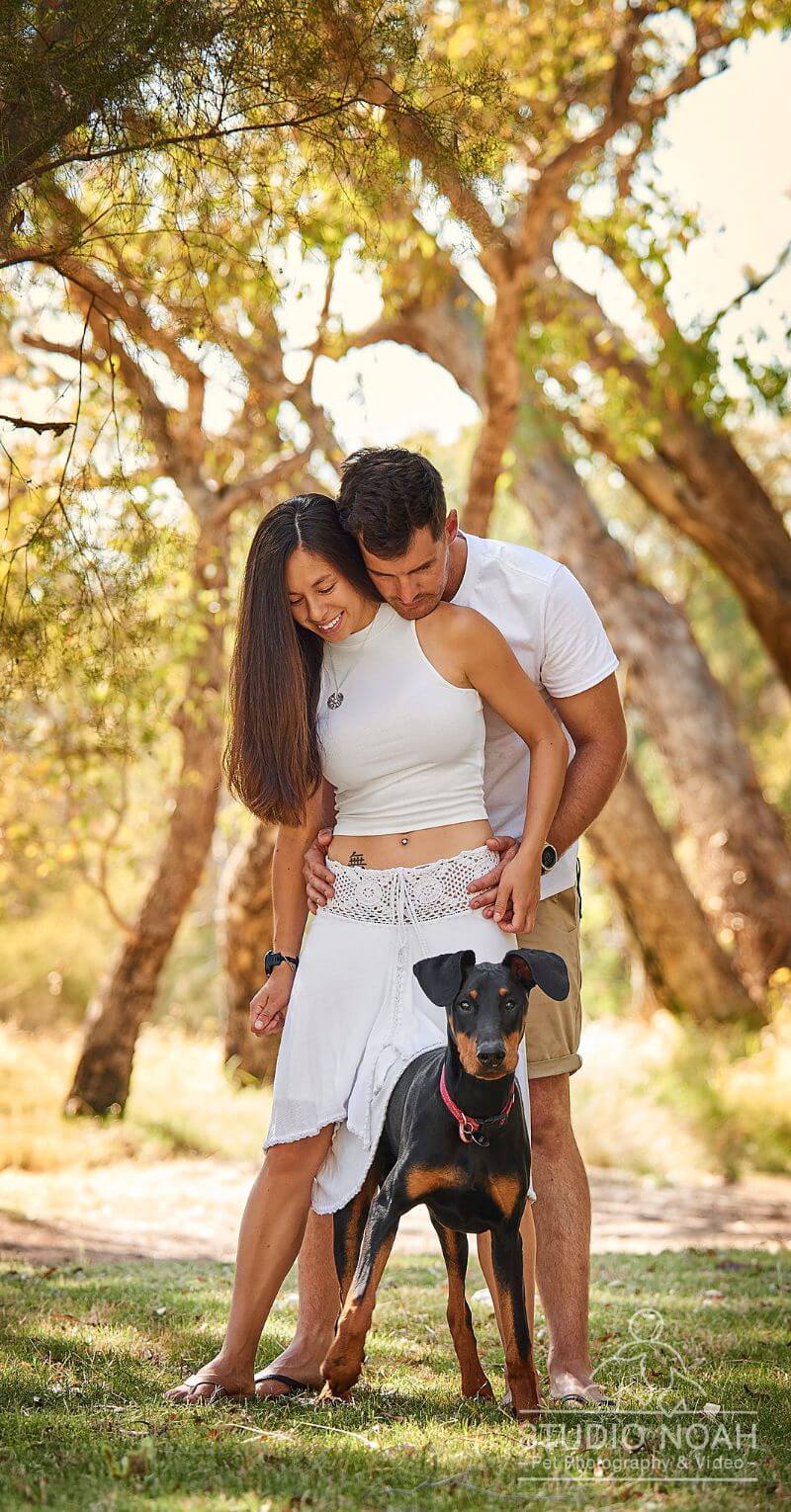 Firstly, what is your favourite thing about Ajax?
His excitable and loving/playful nature.
We know every fur baby is unique, & in your totally unbiased opinion you have the best pet ever!
What makes yours so special?
He is the most excitable dog people have ever met.
Tell us something about Ajax that will make us laugh?
He loves sitting on chairs! If we pull out a dining chair, he will hop onto it straight away as if we pull it out for him. He sits either half on it with his belly on the chair, or he fully gets on it and sits at the table like a human.
Why is having beautiful imagery of your pets important to you?
Our dog is part of our family and we wanted to capture photos with him being his natural, excited self.
Photographing cheeky puppies is a specialty of ours, wanna see more? Follow us on Facebook!
Cute quota not satisfied for the day?? Meet more of our recent models!