Taking Home Your Favourite Images
Priceless Images Of Your Pawfect Pet
Let's face it, the best pet is your own. Being pet owners ourselves we understand how special your fur family is. Each pet is unique, and much more than just a pretty face. That's why it's so important to capture their individuality and immortalise them forever. We have a large variety of product to ensure that your final artworks are as unique as your pet. Whether you're after prints, frames, acrylics, albums, digitals files or more, Studio Noah has something for everyone.
For our full range of wall art options, please download our Product List.
Veronique Renal-Geraty
I love Studio Noah and highly recommend them to all pet lovers. We first met Brenda over 8 years ago when she first took photos of Guinness and Kahlua. Those photos feature prominently in our home. It was so lovely to reconnect with Brenda this year when she came to our home and took these amazingly beautiful photos of Kahlua and our family. Brenda has captured Kahlua perfectly and we now have gorgeous family photos with Kahlua and Sébastien. Thank you Studio Noah!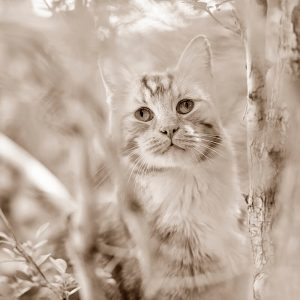 Farida Littlemore
Brenda is brilliant. She is passionate about her work and took some stunning photos of my kitty. I would recommend them any time. Love your work.
Sue Forster
Brenda and her team are the most amazing, friendly and professional people to work with. Our photo shoot was an incredible experience!! Brenda was brilliant with our dog and the family. She is so relaxed, calm and non-stressy. She is always on the watch for perfect moments even when you think she isn't. Our biggest problem was choosing the photos!! I wanted them all!! They were so natural 'on the go' shots. No posing – just as they happened. Except for the group photo of my kids with our dog which was posed. I still pinch myself when I look at it. We had a large one printed and framed and it has pride of place in our dining room. The photo box is stunning and we can change the photos regularly. The whole team work so well together. I would definitely highly recommend Studio Noah to everyone. Thank you team.
Stephen Wirth
Highly recommend Studio Noah Pet Photography and Video. Had a great experience doing the photo shoot with my dogs. Sarah was very lovely and easy to work with. Quality of the products I purchased are outstanding, will be going back for more in the future.
Siobhan Scotson
Everything about Studio Noah is great! They are super helpful, kind and most of all the photos are amazing! I thought I would never get an amazing photo that I truly love of my dog Indie let alone one with me in it as she never sits still! Every photo that was taken I loved and it was so difficult to pick some! Finally picked some and collected them and I love them even more… So much I think I want to order more! Highly recommend going through Studio Noah for photos as they are amazing! Thank you again for taking such amazing photos and making it a great experience!
Laura Farmer
For my 18th birthday I decided I wanted to get some professional photos of myself and my best bud Zac (he's the dog haha). I contacted Studio Noah and instantly felt comfortable and confident that this was going to be the best birthday present ever! Their service is exceptional and the whole team makes you feel comfortable and welcome. Their photos are absolutely beautiful and they go to great efforts to make sure you're happy. The whole experience was well worth it and I will definitely be coming back in the future! Thank you so much Studio Noah for making my 18th so beautiful and memorable!! Zac and I will cherish the photos for many years to come.
Jan Fromm
We had a photo shoot with our cat Ginger and the photo shoot was so amazing! It was relaxed, easy and Brenda helped us get the most amazing photos of our boy. The photos were so good it was incredibly hard to pick which ones we wanted. Thank you so much! Couldn't recommend Studio Noah more!
Susan Betts
Studio Noah are excellent. I absolutely recommend Brenda & her team to anyone wanting photos of their pets. Brenda's work is stunning. Most of all though, I admired the patience & genuine affection she showed our senior staffy X "Boss" during his shoot. I could tell he was more than comfortable in her presence (and a little in love, I think!). The resulting images are gorgeous and we have shown them to absolutely everyone! They are on our dining room wall now, so no one can miss them! Thankyou Studio Noah xx
Sarah Currington
I feel so incredibly lucky to have had this experience to cherish. Thank you for making our whole experience such a memorable one. We we're so overwhelmed with which pictures to select as there was so many beautiful ones. Having these beautiful family photos placed in our new home makes me smile daily coming home to see them. Thank you again for the amazing work and passion. That was clearly shown for your work.
Casey Windsor
Not only did we have a great time with our pets having the photos taken, the results were exactly what we had hoped for. Worth every penny and so pleased we have finally had Studio Noah Pet Photography capture special moments with all of our pets. We will definitely do it again.
Fernanda Rivas Silva
Great job, we got more than what we expected, Brenda was amazing, making us feel so relaxed and enjoying the session. Thank you Studio Noah, very professional and a beautiful experience.
Kristie Wilson
This was my third session with Brenda and Studio Noah and once again I was so happy with the photos. Brenda is amazing and captured so many beautiful images of my babies just going about their business. No posing required! I was really happy that I could include some pics of my recently passed boy Coco from 2007 with my new pics. Thank you so much for these beautiful memories. Love Kristie.
[fts_instagram instagram_id=17841401668616750 access_token=IGQVJWdjRNSlJaSXowRHZAfaXVMVzZA3djBld0EtNnFGZA0FadDNZAcVBjM2lxamcwOVJtYUJiaTladHN3UXF3c2RJOVBpVjIzZAl9pMkttV2tsYkJSemFMOXJPMFpTWDVNYzFPSmRjaV9B pics_count=6 type=basic super_gallery=yes columns=3 force_columns=no space_between_photos=1px icon_size=65px hide_date_likes_comments=no]